There's more than one way to buy a home
Let RTO Homes Help You Buy Your Home
We love to piece together homeownership solutions. For us, it is like a great puzzle. It feels incredible to secure home finance for our clients.
Buying a home can be a complicated process. Getting a mortgage from a bank or financial institution is one of the biggest hurdles to overcome. It can be a challenge when you aren't thought of as a customer, but seen as someone needing the bank's help, and you need their approval before you can go ahead. RTO Homes doesn't work like that.
We start with the position that you are a customer, not an account. While you will need to meet certain criteria in order for us to be able to help you finance your home, we'll work hard to get you into the home by looking at your whole financial picture, not just your credit score and employment income.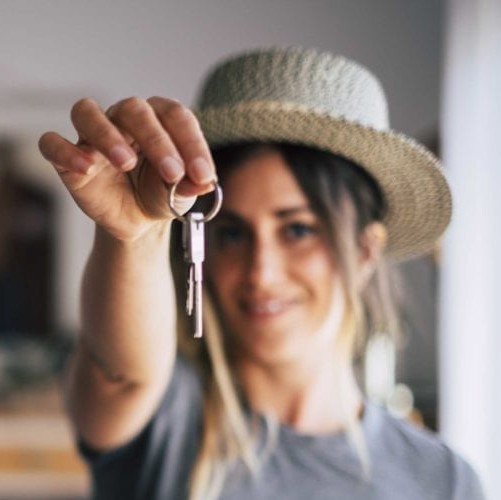 RTO Homes - Flexible Home Financing
No matter what kind of property you want – condo, townhouse, duplex or single family home, RTO Homes can help. With flexible financing and a customer first approach, they will work hard to make your home ownership dreams come true. Have a look through the RTO Homes process, and if it looks like a good fit for you, contact us about taking the next step. We look forward to hearing from you!
How It Works
Buying a home with us is a 5 step process. Start with pre-qualifying to make sure you can afford the payments. Then go out and find the home you'd like to purchase. Once you find the perfect property, we buy it and set up a payment plan specifically for you. Then it's time to move in!
After the term ends, you have choices – get a new mortgage (that will be a lot easier to obtain) and buy the home at the predetermined price, walk away from the home (if the market has completely collapsed and you'd owe more than it's worth) or sell it yourself and keep the profit. If, for any reason, you have difficulty obtaining a mortgage, we can extend your term to give you the breathing room you need to resolve the issue.
RTO vs. Mortgages
The RTO Homes process is a bit different from a traditional mortgage. Instead of you buying the home and paying the bank, We buy the home and you 'rent' it from us. It's similar to leasing a car, with a downpayment on an established purchase price, a series of payments and a buy-out amount at the end of the contract.
It does cost a little more than a traditional mortgage, but the RTO Homes program is much less than other secondary lenders who charge high interest rates with no back-up plan for you if anything goes wrong.
Mortgages with Bad Credit
No matter what you want to buy, if it costs money that you need to borrow from someone, you'll have to pay interest on that money, the cost of borrowing. The better your credit, the more the lender trusts you to pay it back. But if you've had trouble in the past with bills, even when it's not your fault, it will affect your credit score. Getting a mortgage with bad credit is quite difficult. Getting a mortgage with no credit is even harder.
At RTO Homes, poor credit will not stand in the way of obtaining your desired home. We work with you during the term to help improve your credit score to give you a better chance of securing a mortgage at term's end.